Freestyle Music by E MEDIA DESIGN

Technical rudiments of creating kür music
Even in the early days of the musical kür back in the nineteen-nineties it was still very important to us to provide the perfect technical accompaniment when recording freestyle music. During the performance a dressage rider should be able to hear the best possible reproduction of the accompanying music, similar to a musician playing on stage in a band. We think it is fair to say that we have set new international standards in this field in recent years.

With our computer-aided audio concept we have managed to create a balanced and even blanket of stereo sound. Our system uses a large number of speakers, meaning we can eradicate all hotspots, providing good, even sound reproduction throughout the dressage square at low volume levels, creating a pleasant atmosphere for both horse and rider.

We have been responsible for providing freestyle music for and at international dressage competitions for over 20 years now. As a consequence we are familiar with all the current kür music and naturally have close contact with the dressage riders themselves. Again and again over the last few years riders have also asked us to put together freestyle compositions for Grand Prix level rides but unfortunately we have not had sufficient time available to devote ourselves adequately to this task. Since it takes several weeks put together a proper Grand Prix freestyle accompaniment we have only managed to produce a few pieces for the novice and intermediate classes in the past.

Freestyle Music by E MEDIA DESIGN
E MEDIA DESIGN is now able to produce your freestyle music up to Grand Prix level Thanks to our collaboration with Jacquelien Vriese, an accomplished graduate from Arnhem Conservatory (NL) and active rider and trainer, we are now able to compose and produce individual and innovative freestyle music up to Grand Prix level. Please use the contact information on the right if you are interested in contacting Jacquelien and look forward to receiving full professional equestrian and musical support.
Studio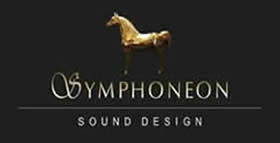 SYMPHONEON
Recording studio
Jacquelien Vriese
Professional and artistic freestyle music created in our partner studio in the Netherlands. Here you have the choice of using music from our extensive CD library or having your own very individual kür music composed and recorded. Our associate partner Jacquelien Vriese, rider and accomplished musician as graduate of the Arnhem Conservatory (NL) – the "ArtEZ hogeschool voor de kunsten" - would be only too happy to provide you with all the necessary advice and support. You can also rely on Jacquelien's expertise and creativity when it comes to choreographing your freestyle performance.
SYMPHONEON Sound Design
Thorbeckelaan 73
9665 CC Oude Pekela
THE NETHERLANDS
Tel. 0031 – (0) 643 230 214
E-mail: info@symphoneon.com
www.symphoneon.com